Residential Wireless

3 great plans to choose from!

Service plans have No Tax, No Hidden Fees, No Extra Charges. The price you see is the price you pay every month!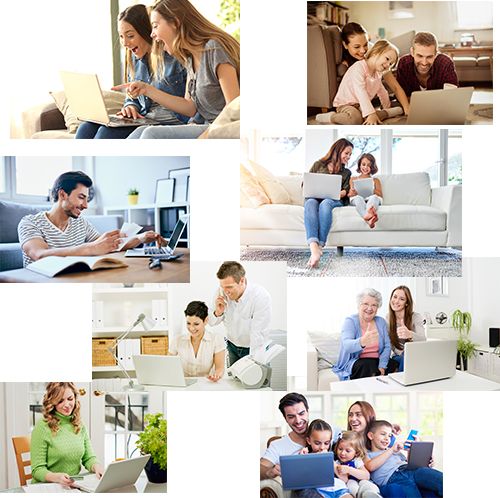 Welcome To A Better Internet Service

Make the switch to Amplex and enjoy the freedom of reliable broadband! With Amplex you have the speed to enjoy the numerous streaming video options available through many media boxes and smart TV's. Stop paying for expensive cable stations or unreliable DSL services.
Amplex uses the latest in fixed-position wireless technology to deliver dependable broadband Internet service to your home. Our service does not require a phone or cable line, saving you money with a secure and reliable connection.
24-hour technical support
No hidden charges or fees
Reliable, fast and affordable high-speed home Internet service
Local professional service and support
Since 1997 Amplex has provided reliable home Internet service to local families just like yours. Our large service area and multiple access points ensure that you get high speed Internet access 24 hours a day and 7 days a week. Our commitment is to provide you with the Internet speed and reliability you deserve.
We provide wireless home internet service throughout much of Northwestern Ohio including Port Clinton, Grand Rapids, Waterville, Bowling Green, Oak Harbor, Perrysburg, Bellevue, Genoa, Curtice, Woodville, Gibsonburg, Put In Bay, Fremont, Lindsey, Findlay, and many more locations.
Amplex Internet Installation and Service Call Guidelines 

Effective March 21st, 2020 until further notice.


Amplex Internet is currently still able to install new customers and perform service calls during the COVID-19 crisis under the following conditions:


Under no circumstances will an Amplex technician enter your home or business. At all times, the technician will maintain a distance of greater than 6 feet separation from any person. Please keep all family members and pets away from the technician at all times. Should any technician feel uncomfortable with the situation, they will leave at their discretion. This guideline is a priority and in place to protect you and our employees.

Installation Procedure:

1.) Amplex technician will install a reliable temporary connection for you. We will come back a 2nd time to complete a permanent setup, once the COVID-19 crisis has passed.
a.) Customer will be charged the standard installation fee only once, at the time of the initial installation.
b.) The wireless router may not be able to be placed in an optimal location, until the technician is able to return and finalize the installation.
c.) Amplex technicians will not enter home or business. We will pass an Ethernet or fiber cable through the window or other suitable entry point, along with the power adapter and any other necessary equipment. We will not be able to drill holes at this time for cabling.
d.) Technician will be able cover or block any openings with available tape, or you may seal the opening on your own.

Note: Customer will be responsible for service call charge should we need to come back due to a crushed cable. Amplex is not responsible for residue or damage caused by sealing tape. It is the customer's responsibility to weather proof any openings to their own satisfaction, as Amplex will not be liable for damages due to openings.
e.) Technicians can instruct you on how to plug in the equipment via communication through doorway or phone if needed.
f.) If signing up for our Managed Router Service, the technician will leave a pre-configured router at a drop-off point such as the front porch. Managed or pre-configured routers can also be mailed to the customer's home and technical support will be available via phone or email.
g.) Technicians will make sure that you have a reliable service, passing traffic, before he leaves the premises.

2.) Amplex customer service reps will email you an agreement to sign and return. This email will be sent when the installation is scheduled. All terms and conditions are in this agreement, so please read, sign, and return upon receipt. Some highlights of the agreement are:

a.) 12 month term length, month to month thereafter

b.) Early termination is $200 or pro-rated for amount due within initial 12 months
c.) You can upgrade or downgrade your service at any time.

d.) Phone, TV, and Managed Router Service are month to month.

3.) We will need to obtain the following before finalizing the installation appointment:
a.) Complete new customer information, including complete address, phone number, email address, security PIN number, and authorized users for account changes.
b.) Credit or Debit card placed on file to cover the cost of installation and first month's service charges. Your future billing date is the date of installation for each month.
c.) If ordering Managed Router Service - desired Network Name and Password
d.) New phone service - if porting an existing number, we will need a Letter of Agency form to be filled out and emailed back to us, before the porting process can begin.


For questions or concerns, please call our office or feel free to email our support team.

Office: 419-837-5015
 Email: [email protected]
Residential Wireless Plans

Home Basic

Affordable and reliable

5 Mbps down / 1 Mbps up

Perfect for social media and online shopping

5 free email accounts

$50.00 Installation - 12 month agreement

Home Premium +

Our most popular service plan

12 Mbps down / 2 Mbps up

Great for online gaming and streaming video

10 free email accounts

$50.00 Installation - 12 month agreement

Home Xtreme

Fastest residential plan

25 Mbps down / 3 Mbps up

Best plan for 4K video and multiple users

10 free email accounts

$50.00 Installation - 12 month agreement

Customer Referral Program: Receive one month free wireless service when you refer a family member or friend to Amplex. No limits to the number of free referral months!
Renters: Download and print your Landlord Waiver Form. This must be presented at the time of installation. Click to download waiver form.

New Customers: Service plans are 12 month term. Click to download copy of agreement.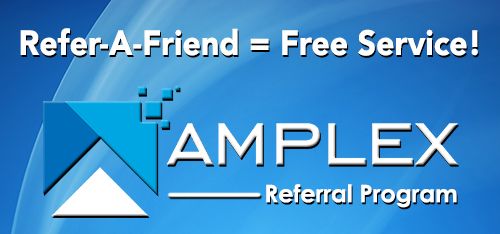 Schedule your installation: Call 419-837-5015


*Speeds are configured as limits, not guaranteed sustained rates. *Put In Bay, Middle Bass Island, and Kelley Island have a $75.00 installation fee.
Not all Internet Plans available at all locations. Please call for availability.